| | |
| --- | --- |
| December 2015 | |
The panel discussion about National Lampoon from Wednesday, featuring Rick Meyerowitz, Peter Kleinman, and Tony Hendra, was captured on video and can be viewed here.
Posted November 21, 2015, 09:26 PM
Michael Gross, R.I.P. Former NatLamp art director Michael Gross died at his home in Oceanside, California today at the age of 70. Michael is one of my heroes, and a big part of why I created this site nearly 20 years ago. Because of this site, I was in contact with him from time to time over the last ten years or so. The last time was about a month ago when he sent me a link to the video about an award he got (see below). See also his obit in the New York Times. Also, lots of tributes on Michael's Facebook page.
Posted November 16, 2015, 09:39 PM
A panel discussion about the artists and writers of National Lampoon, moderated by graphic design historian Steve Heller, will be held on November 18, 2015 in New York City. Participants include illustrator Rick Meyerowitz, former editor Tony Hendra, and former art director Peter Kleinman. More info here.
Posted November 9, 2015, 10:24 AM
The American Bystander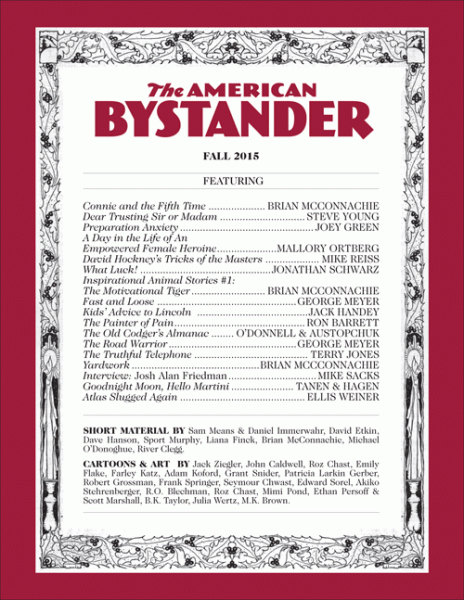 is a new quarterly humor magazine being launched on Kickstarter. (If you don't know what Kickstarter is, it's a way for people, like maybe you, to help back new creative ventures. It's sort of like public tv for artists, writers, and other creative types.)
Many of the folks behind The American Bystander are former Lampoon writers and artists, such as Brian McConnachie (who will be editor-in-chief), Ellis Weiner, Mike Reiss (also known for The Simpsons), Ron Barrett, Jack Ziegler, John Caldwell, Roz Chast, Robert Grossman, Frank Springer, Edward Sorel, R.O. Blechman, Mimi Pond, B.K. Taylor, and M.K. Brown. Other contributors are coming from SNL, The Simpsons, and Monty Python. It'll be like a comedy all-star supergroup. Full disclosure: I designed the logo, so I'm kind of involved, too.
I think it's going to be amazing, and it looks like they are well on the way to being funded.
A comedy mind is a terrible thing to waste. Won't you help?
Posted October 21, 2015, 09:57 AM
Michael Gross Wins Stan Lee Lifetime Achievement Award. You can watch his acceptance speech here. The award presentation, by Ernie Hudson of Ghostbusters, starts about 24 minutes in.
Posted October 17, 2015, 11:07 AM
It's Out! The documentary film about the National Lampoon, Drunk Stoned Brilliant Dead, was released today. I haven't seen it yet, but, judging from the trailer and other clips they've released, it looks awesome.
Posted September 25, 2015, 04:31 PM
Drunk Stoned Brilliant Dead,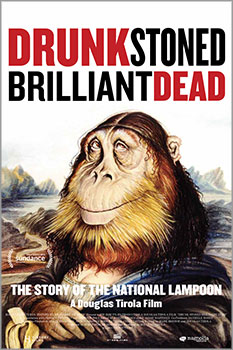 the documentary film about the National Lampoon, is making the festival circuits right now. At some point, you will be able to see it, but in the mean time you can download the poster, featuring Rick Meyerowitz's iconic Mona Gorilla.
(Side note: Rick wrote a large-format book with the same title, and even the same font. The film is using it with his permission, of course. But I'm glad they also chose to use Rick's Mona Gorilla art. I honestly can't think of an image more associated with the magazine than that. Rick specifically chose not to use it on his book, and I respect his choice, but I'm glad they chose to use it for the film.)
Posted August 31, 2015, 04:49 PM
A Conversation with Michael Gross is up on Vimeo: https://vimeo.com/112924190 . In case you don't already know, Michael was art director for National Lampoon when it was at its peak (1970-74) and designed the Ghostbusters logo (he was associate producer of the movie, too).
Posted July 29, 2015, 02:29 PM
A new documentary about National Lampoon will be out in the near future. It's called Drunk Stoned Brilliant Dead: The Story of the National Lampoon and just got picked up for distribution. You can read about it on the Variety website. And, oh, just noticed, there's even a review here. Sounds pretty great.
Posted July 7, 2015, 09:08 PM
Terrific interview with Michael Gross, former NatLamp art director, at The Comics Journal. Michael went to Hollywood after his Lampoon days and was one of the producers of "Ghostbusters", "Heavy Metal: The Movie", and many others. Highly recommended for fans of the classic era of the National Lampoon.
Posted March 16, 2015, 01:17 PM
Mark's Very Large Plug. You might think, as you wade through this site, that I have no life. Not true. I spend about two days a year working on Mark's Very Large National Lampoon Site. The rest of the time I make fonts. You can see my real website here.