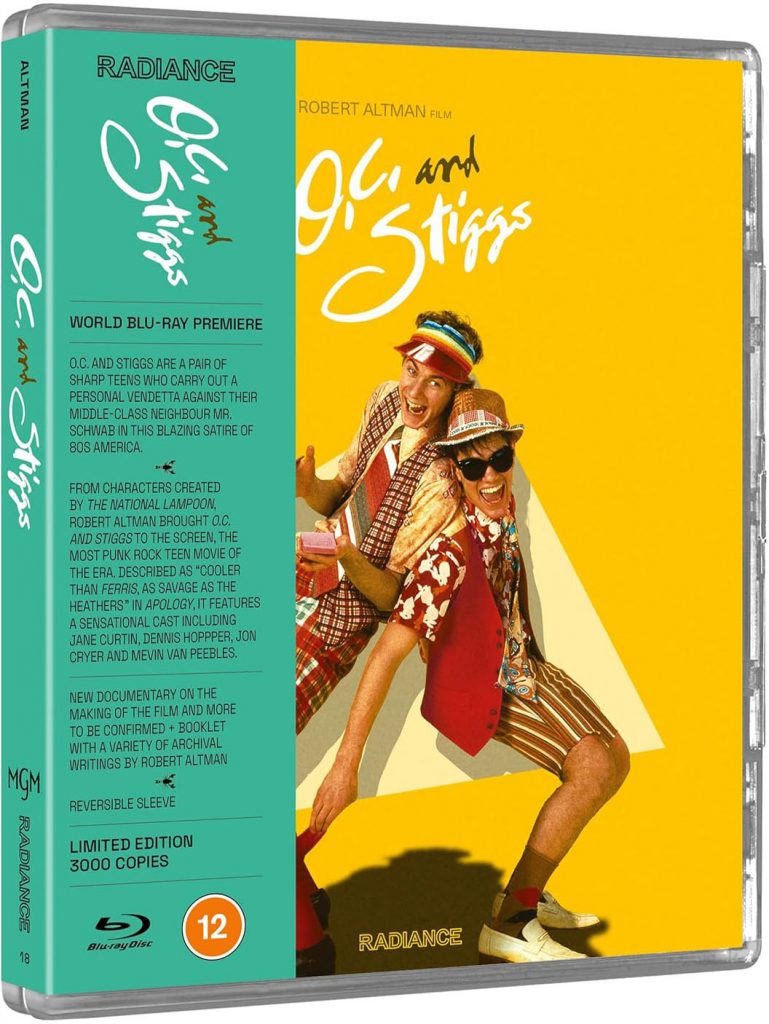 Ted Mann and Tod Carroll wrote a series of stories about a pair of teens named O.C. and Stiggs, starting in the July 1981 ("Endless, Mindless Summer Sex") issue—"Summer Fun with O.C. and Stiggs" (Mann), "Some Real Stupid Guys That O.C. and Stiggs Know Go to the Beach" (Carroll), and ending with the entire October 1982 ("The Utterly Monstrous and Mind-Roasting Summer of O.C. and Stiggs") issue.
To be honest, I was never really into the O.C. and Stiggs stories, but judging by the emails I've gotten over the years, I may be in the minority. O.C. and Stiggs was extremely popular during that early-eighties period of NatLamp.
Fast forward a few years, and Mann and Carroll wrote a script for an O.C. and Stiggs movie and started shopping it around (with Matty Simmons' blessing—he wasn't a fan), and, long story short, it was eventually made in 1983 by director Robert Altman (released in 1987/88). Everyone involved expected it would be the next Animal House but, alas, it was a flop.
Fast forward again to today, and it has now been remastered and rereleased on Blu-ray, along with a 2-hour documentary by Hunter Stephenson (who alerted me to all this) about the making of the film featuring the two leads, Neill Barry (Stiggs) and Daniel Jenkins (O.C.), Ted Mann (via his emails), Martin Mull (who played Pat Coletti), Josh Karp (author of the Doug Kenney bio and bio-pic, A Futile and Stupid Gesture), actor Paul Dooley (who plays Randall Schwab), and Stephen Altman (Robert Altman's son).
The disc has been produced and released by Radiance Films UK. You can order it on their site or on Amazon. Two things: If it says it's out of stock, check again later. Second, for the moment it's only available as a Region B disc, meaning that it is meant to work on Blu-ray players in the UK and Europe, not on US or North American players. However, if you have a multi-region or region-free Blu-ray player, you will be able to play it no matter where you are. Hopefully, at some point it will also be released for Region A.
Some tidbits from Hunter about the film and the disc:
"I was surprised to hear that his son Stephen Altman's fandom of NatLamp and the original material predates his father's involvement. 'Anyone but you, Dad!' was Stephen's initial reaction after being told to report to the Arizona set. In audio commentaries, Altman's sons, cast, and crew also discuss the surreal possibility of then-planned sequels."
"Emails from Ted Mann ripping the film appear throughout."
"The truth is that Altman & Co. thought the script was a searingly funny vessel for satirizing '80s teen "mallwave" comedies. For me this is why the film and its 'untold' story is endlessly fascinating; the director who defined the '70s with the weed-friendly, anti-Hollywood dark comedy M*A*S*H—which clears the way for Animal House and Sutherland's role therein—much later appropriates '80s Lampoon material for a similarly bitter, clever end. Yet it's instantly forgotten."
"Personally, Altman's film works as a Lampoon movie. It's also surprisingly faithful to Mann and Carroll's script. Most interesting, this is the only Lampoon affiliated movie, outside Caddyshack, shot with the vibrant, cascading ADHD chaos reflective of the magazine itself."
Anyway, I've never seen the movie, but I ordered a copy and look forward to screening it and the documentary. Thanks to Hunter for letting me know about it.