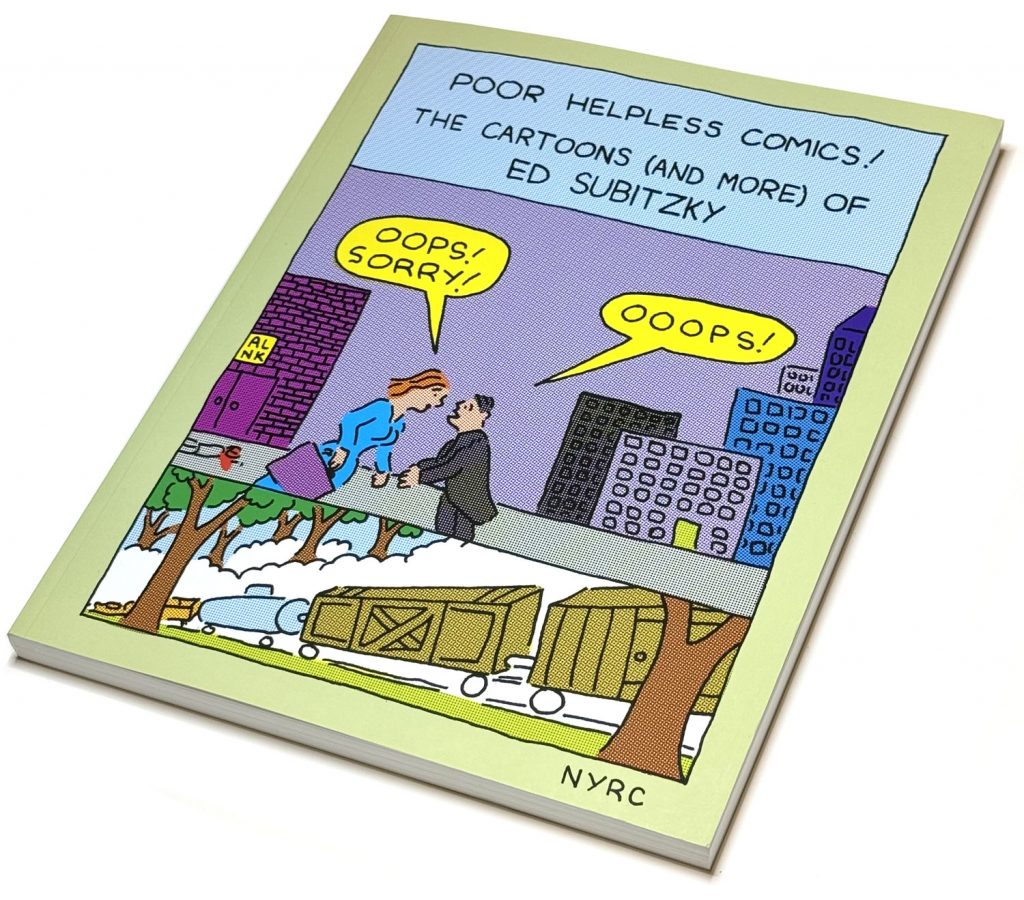 This is something I've personally been waiting for for a long time. Poor Helpless Comics! The Cartoons (and More) of Ed Subitzky is a newly published collection of comics (and more) by Ed Subitzky. It's fairly large format, soft cover, 184 pages.
Subitzky's drawing style is minimal. As he says in the book, the characters are almost not there. It's all about the words and what the characters are doing and, above all, the humor.
The book contains what seems like most of Subitzky's cartoons and writing from National Lampoon, where he was a contributor for over two decades, starting in the April 1972 ("25th Anniversary") issue with "Anti-Comics!", a strip in which the words are the characters and the speech balloons are filled with drawings of people and places. It also contains some of his post-Lampoon comics, which have appeared in The New York Times and most recently The American Bystander.
Subitzky's comic strips often had a sort of "meta" angle to them—they were often about the form of the comic strip itself, with strips such as "Moebius Strip Comics!", "Eight-Way Comics!", and "Crossword Puzzle Comics!"—where you had to fill in the word balloons based on a list of clues—or "Background Music Comics!" which included a musical score which you were supposed to play on a piano or other instrument as you read.
Included in the book are a few of the articles he wrote for the Lampoon, including some of my favorites like "An Evening in 1973" (which tells of the wonderful world of the future from as imagined by a writer in 1923) and "Stupid World" (in which everyone and everything, including the laws of physics, is stupid).
Interleaved into the book is an interview with Subitzky conducted by cartoonist and writer Mark Newgarden (who was one of the creators of Garbage Pail Kids and wrote the wonderful essay How to Read Nancy which was expanded and published as a book in 2017).
If you're a fan of Subitzky like me, you'll definitely want this long-overdue collection. You can get it at Amazon and other bookstores.