ISSUES Index
< Previous issue | Next issue >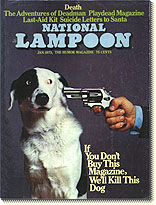 "COVER: If you're a regular reader, you must be asking yourself, 'Why are NatLamp's covers so inconsistent?' Do you think the editors who insist month after month, that I am the cause of all our cover problems, can possibly be right? I'll let you decide.
"First, let's examine the artist (me). I'm charming, six-feet tall (with the profile of a Viking), slim, blonde, hung like a horse, not very witty (but that's not my job), and would like to correspond with singles and couples interested in exchanging Polaroids (no gay guys, please).
"Second, let's examine the problem. This month's brilliant cover, photographed by Ronald G. Harris, is a success primarily because of one element—a joke. Give me a good joke to work with and I'll give you an effective humor-magazine cover. The problem around here lately is that the combined efforts of the entire editorial staff have not resulted in a single funny cover in four months. This month's superb cover idea was conceived by Ed Bluestone, and through skillful art direction and minimal interference from asshole editors it became the tasteful entity you hold in your hands.
"There now! I hope my critics have been silenced, while you the reader sit as my judge.—Michael Gross."
November 2018 update: See Who Shot Mr. Cheeseface? The Vermont Demise of a Famous Mutt for the full story of where the cover dog came from and his tragic fate.
Contents
(listing only)
Editorial, Uncredited; Cartoon by Caldwell
Letters, Uncredited; Illustration by Marvin Mattleson
Mrs. Agnew's Diary, Uncredited [Doug Kenney]; Illustration by Marvin Mattleson
True Facts, Uncredited; Illustration by Marvin Mattleson
Humorrhoids, By Ed Bluestone; Illustration by Marvin Mattleson
News on the March, Uncredited [Henry Beard]; Illustration by Marvin Mattleson, Photographs uncredited
Deadman Comics, By Henry Beard; Illustrated by Dick Giordano and Neal Adams; Last Aid Ad, Uncredited; Bobby Fisher Shows You How to Beat Death Book Ad; Uncredited
23 Ways to Be Offensive at the Funeral of Someone You Didn't Like, By Ed Bluestone; Illustration uncredited
Man In Morge, Cartoons by Rodrigues
Where Are They Now?, By George W. S. Trow; Photographs uncredited
Foto Funnies, Uncredited; Illustration by Marvin Mattleson; Photographs uncredited
Death on Ice, Written and illustrated by Gahan Wilson
Dead Pages, By George W. S. Trow and Cynthia Laverty; Photocollages uncredited, Illustrations by Randall Enos and uncredited
Telling a Kid His Parents Are Dead, By Ed Bluestone; Illustrated by Shary Flenniken
Finnswake Again, By Sean Kelly; Illustration by [?] Corey
Children's Suicide Notes to Santa, By Brian McConnachie
The Day the Animals Discovered Death, By Ed Bluestone; Illustrated by M. K. Brown
Playdead Magazine, Uncredited; Illustrations by Brad Holland, Ivan Lacher, Warren Sattler, and uncredited; Photographs by Dick Frank, David Kaestle, and uncredited
Funny Pages, Featuring "Nuts" by Gahan Wilson; "Dirty Duck" by Bobby London; "Trots and Bonnie" by Shary Flenniken; "Sermonette" by Ed Bluestone and Frank Springer; "Mule's Diner" by Stan Mack; "Idyl" by Jeff Jones; and "The Aesop Brothers, Siamese Twins" by Rodrigues