ISSUES Index
< Previous issue | Next issue >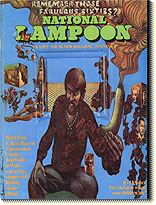 "COVER: The exact meaning of this month's cover is unclear, but if you play it backwards, there are some interesting hints about Paul. Its title is: 'It's Going to Be the Very Next Craze' (see above). It was painted by Gilbert Stone, who did the latest Band album jacket, which makes him okay with us, because we're all into album jackets (see above)."

The cover, in a rather hallucinatory style, shows a young hipster passing the viewer a smoldering banana. In case you are too young to get the joke, during the sixties there was a widespread but false rumor that smoking banana skins would get you high.
Contents
(listing only)
Editorial, By Sean Kelly; Illustration by Randall Enos
Letters, Uncredited; Illustration by Marvin Mattleson
Mrs. Agnew's Diary, Uncredited [Doug Kenney]; Illustration by Marvin Mattleson
True Facts, Uncredited; Illustration by Marvin Mattleson
News on the March, Uncredited [Henry Beard]; Illustration by Marvin Mattleson, Photographs uncredited
Hot Flashes, Uncredited; Illustration by Marvin Mattleson, Photographs uncredited
Humorrhoids, By P. J. O'Rourke; Illustration by Marvin Mattleson
The Camelot Times, By Dean Latimer, P. J. O'Rourke, and Henry Beard; Photographs uncredited
Foto Funnies, Uncredited
OD, The Game of Drug Abuse, By Michael O'Donoghue and Anne Beatts; Illustration by Mari Kaestle
The Ventures of Zimmerman, By Tony Hendra and Sean Kelly; Illustrated by Neal Adams. To Honor a Decade of Dissent, By Cindy Laverty
See Me, Deal Me, Clutch Me, Steal Me, By Alan Coren; Illustration uncredited
Where the Weird Things Are, By Michael O'Donoghue; Illustration by Wally Neibart
The Assassination of Vaugh Meader, Written and illustrated by Neke Carson
Junkhead Comics, By Dean Latimer and Ray Schultz
An Afternoon on St. Mark's Place Sometime Late in the 1960s, By P. J. O'Rourke; Illustration by Randall Enos
Foto Funnies, Uncredited [features Chris Miller]
Come for Your Life, By Chris Miller; Illustration by Melinda Bordelon
Underneath the Underground, By John Glashan
Rim Shot, By P. J. O'Rourke, Rick Ballen, Sean Kelly, Dean Latimer, Michael O'Donoghue; Illustration by Michael Gross, Photographs by Steve Myers
Your Ad Here, By Michael O'Donoghue; Photographs by Larry Couzens and David Kaestle, Illustration by Warren Sattler
Watts, Kalifornia (Huh?), By Brian McConnachie; Photograph by Ronald G. Harris
Funny Pages, Featuring "Nuts" by Gahan Wilson; "Mule's Diner" by Stan Mack; "Famous Comic Artists School" by Bruce Cochran; "Idyl" by Jeff Jones; "Turkeys" by John Brent and Bobby London; "Beans Morocco Rides Again" by M. K. Brown; a tiny untitled strip by Randal Enos; "Radio Rae" by Trina; "Chicken Gutz" by Randall Enos; "Off-the-Page Comics!" by Ed Subitzky; and "The Aesop Brothers, Siamese Twins" by Rodrigues