ISSUES Index
< Previous issue | Next issue >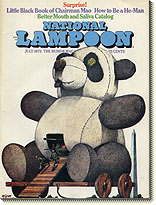 "COVER: Once again our own Art Director, Michael "Has Anybody Got an Eraser?" Gross, elbows his way into your home with this month's cover. His last ("Is Nothing Sacred?" January, '72) sold literally dozens after being made into a handsome wall poster. Come to think of it, his career has been looking pretty grim generally, particularly since Frederick's of Hollywood started using photographs instead of free-lance art in their rubber-frock catalogues.
"Just kidding, Mike, heh heh.
"Eat me."
The cover shows a giant panda near the Washington Monument. Several Chinese soldiers and a tank are emerging.
Contents
(listing only)
Editorial, By Doug Kenney; Illustrated uncredited
Letters, Uncredited; Illustration by Marvin Mattleson
Mrs. Agnew's Diary, Uncredited [Doug Kenney]; Illustration by Marvin Mattleson
News on the March, Uncredited [Henry Beard]; Illustration by Marvin Mattleson, Photographs uncredited
True Facts, Uncredited; Illustration by Marvin Mattleson
Humoroids, By Henry Beard; Illustration by Marvin Mattleson
Saigon Times Refugee Pages, By John Boni and Henry Beard; Cartoon by Randall Enos, Photographs uncredited
Mao's Little Black Book, By Dean Latimer; Photographs and illustrations uncredited
Suprise Poster, By Michael O'Donoghue; Illustrated by Don Perlin
The Way to Become the Masculine He-Man, By Chris Miller; Illustrated by Vincent Calabrese
Third World Comics, By Dean Latimer and P. J. O'Rourke; Illustrated by Gray Morrow
Sermonette, By Ed Bluestone; Illustrated by Frank Springer
Foto Funnies, Uncredited [features Doug Kenney]
The Abandoned Sock, Written and illustrated by Edward Gorey
Foto Funnies, Uncredited [features Paul Krassner]
Colonel Teddy Jingo's Sketch, Written and illustrated by Bruce McCall
Foto Funnies, Uncredited [features Chris Miller]
Calling Dr. Hitler, By Michael Olshan; Illustration by Peter Bramley
The Worst Cartoons in the World, By Brian McConnachie
Better Mouth and Saliva Catalog, By Ed Bluestone; Photo collages uncredited
Funny Pages, Features "Nuts" by Gahan Wilson; "Prophet & Loss" by Peter Bramley; "Reverse Censorship Comics!" by Ed Subitzky; "Chicken Gutz" by Randall Enos; "Alice Pajamas" by C. Barsotti; "Idyl" by Jeff Jones; "Mercury, God's Own Messenger" by M. K. Brown; "Shab" by B. Kliban; "Doctor Colon's Monster" by Rodrigues; and "americarnal" by Bill Lee