ISSUES Index
< Previous issue | Next issue >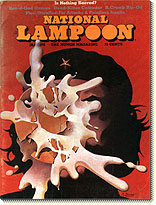 "COVER: This month's 'grabber' is by Michael Gross, Art Director of the National Lampoon, or Lampoon Nationale, as it is known in the tiny town of Mal-de-Mér, France, where, as elsewhere in the fancy art-conscious European continent, mention of the name 'Gross' will get you les yeux morts (blank stares). After graduating with honors from Brooklyn's prestigious Hudson River School, Michael spent an anno (worth about 4-1/2 American months) in Mexico on the Olympic Design Committee, whose startling graphics were generally credited with sparing Mexico the troublesome crowds of spectators that have spoiled so many previous Olympiads. Prior to joining the NatLamp team, Mike worked at Better Gums and Bicuspids, Bush and Shrub, and the American Journal of Institutional Food. In his spare time he raises hackles and forges Monets."

Cover is a parody of a famous Ché Guevara poster.
Contents
(listing only)
Editorial, By Tony Hendra; Illustration by Sagebrush
Letters, Uncredited; Illustration by Marvin Mattleson
News of the Month, Uncredited [Henry Beard]; Illustration by Marvin Mattleson
The Unforgiving Minute, Paul Krassner; Illustration by Marvin Mattleson
Hot Flashes, By Commander Barkfeather [pseudonym?]; Illustration by Marvin Mattleson
Letters, Uncredited; Photographs uncredited, Illustrations by Marvin Mattleson
Mrs. Agnew's Diary, Uncredited [Doug Kenney]; Illustration by Marvin Mattleson
Son-O-God Comics, By Sean Kelly, Michel Choquette, and Anne Beatts; Illustrated by Neal Adams
Summer of '44, By Michael O'Donoghue and Tony Hendra; Illustration by Frank Bozzo
Remembering Mama, By Chris Miller; Illustration by Philippe Weisbecker
Buckminster Fuller's Repair Manual for the Entire Universe, By Henry Beard, Harry Fischman, and Jeffrey Prescott [illustrations by one of the latter two]
Where Do YOU Draw the Line?, Uncredited; Illustrations by Sagebrush, Randall Enos, and others [uncredited]
The Last, Really, No Shit, Really, The Last Supplement to the Whole Earth Catalog, By Tony Hendra, Michael O'Donoghue, Sean Kelly, and Henry Beard; Illustrations by Randall Enos
Sacred Calendars, Illustration by Randall Enos, Photograph by Larry Couzens
Che Guevara's Bolivian Diaries, By Doug Kenney; Illustration by Milton Glaser
The Vietnamese Baby Book, By Michael O'Donoghue; Illustrations by Newton Meyers
Foto Funnies, Uncredited [appears to feature Paul Krassner–MS]
The American Indian: Noble Savage or Renaissance Man?, By Anne Beatts; Illustrations uncredited [mostly from historical sources with one possibly original signed "S Tan"–MS]
Funny Pages, Featuring "Nuts" by Gahan Wilson; "Crash Christian" by Michael O'Donoghue, Illustrated by Frank Springer; "Shab" by B. Kliban; "Chicken Gutz" by Randal Enos; "Doctor Colon's Monster" by Rodriques; "Idyl" by Jeff Jones; "Vinny Shinblind, The Invisible Sex Maniac" by Susan Harris and Peter Bramley; an untitled strip by Lou Myers; and "Trick Cigar Funnies" by Michael O'Donoghue, illustrated by Frank Mell