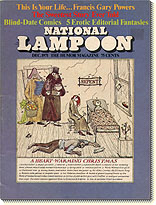 "COVER: This month's moving reaffirmation of the Christmas spirit oozed from and personable writer/illustrator of innumerable unpleasantries ('The Disrespectful Summons' in NatLamp's last issue) including his own books, among them The Phantom Toll Booth, The Gilded Bat, and The Curious Sofa." [The cover depicts a poor family visited by a rich man bearing extravagant, useless gifts. Each item in the scene is numbered with a corresponding description in the caption below.—MS]
Contents
Editorial, By Doug Kenney
A child's letter to Santa Claus in the form of shareholder report
Letters, Uncredited; Illustration by Marvin Mattleson
The Adventures of Cynthia Goodhead, By Jon Surgal
Cynthia writes Sha-Na-Na for advice on how she can get an orgasm and relates some surprising things she has learned about Bob Dylan from a mysterious dumpster diver.
Mrs. Agnew's Diary, Uncredited (Doug Kenny); Illustration by Marvin Mattleson
Spiggy is concerned that Dick is not planning to have him as a running-mate in '72. When Dick offers him the post of head of the AEC, Spiggy reveals some incriminating video tape in his posession concerning Dick, Bebe Rebozo and a shower stall and gets an upgrade to Supreme Court Justice.
The Unforgiving Minute, By Paul Krassner; Illustration by Marvin Mattleson
A review of the stage play "Lenny" delivered posthumously by Lenny Bruce himself.
The Story of Jessica Christ, By Tony Hendra; (Illustration appears to be uncredited)
Done in the style and format of a Sunday school textbook, answers the question, "What if Jesus had been a woman?"
Boys' Romance Comics, By Doug Kenney; Illustrated by Joe Orlando
Romance comic parody titled "Blind Date With Love" in which a hapless teen takes a blind date to the prom. The puffed up first person narrative contrasts sharply with the humiliating reality protrayed in the accompanying panels. Features an ad for the "Atomic Zit-Lifter" and a grossly unsympathetic advice column called "Ask Uncle Bob."
Christmas Story, Written and illustrated by Arnold Roth
The sad tale of Santa's Christmas visit to modern America where he encounters a cult of pot-heads, a bitter, decadant Bob Cratchit, militant feminists, militant blacks, Jesus freaks, and paranoid flag-wavers.
Foto Funnies, Uncredited [features Doug Kenney–MS]
Inept Charades player.
The GUM Christmas Gift Catalogue, By Henry Beard; Cover painting by Charles Lilly; Collages by Cloud Studio
Written in hilariously stilted language as if translated from Russian by a non-native speaker of English, a gift catalogue supposedly from the famous Soviet department store featuring hopelessly un-modern modern appliances and gift items such as the "Grand Flavorsk Unexcelled Rotoczar" (gas-powered toaster) and the "Drodznud-Gdice 'Big Shot' Turning-Around Chair."
The Sexualization of Veranda, By Chris Miller; Illustration by Michael Gross
The slapstick/pornographic tale of Veranda Porch, a sexually repressed young woman, who spends some time at the "Wresalen Institute of Group Joy and Touching Each Other a Lot" in order to rid herself of her sexual inhibitions.
Free Xmas Posters, By Tony Hendra and Michael O'Donoghue; Photo by Roy Zalesky
Two poster parodies. One features an artistic sepiatone photo of a lone figure walking through a forrest of tall pines with the caption, "This poster looked better as a tree." The other is a parody of a famous anti-war poster featuring a child-like drawing of a flower made of dollar bills with the statement, "war is not unprofitable for poster-makers and other living things." See posters, etc.
Geography Has No Silent Vowels, By Joseph Gleeson; Illustration by Arnold Roth
An odd short story about an elementary school class in which several of the students (who sometimes seem more like adults) are popping pills during lunch.
This Is Your Life…Francis Gary Powers, By Terry Catchpole and Walt Smith
Ralph Edwards humiliates Francis Gary Powers—the pilot of the U-2 spy plane that was shot down over Russia in 1960—on a live national broadcast of "This Is Your Life." Guests include former premier Nikita Khrushchev, Gary's high school gym teacher, his family and friends, and so on, who paint a portrait of a complete failure, even blaming him for the fueling the cold war. Gary winds up alone on stage, pinned beneath a lighting rack after everyone else has left for the post-show party.
Laughing All the Way, By Michael O'Donoghue; Illustration by Randall Enos
A paranoid little story about a Russian sneak attack of the U.S. on Christmas Eve. The Russians take advantage of the yearly USAF Christmas "sighting" of an "unidentified flying object" over the North pole, and disguise their missiles as sleighs pulled by reindeer.
Editorial Fantasies, By Henry Beard, George W. S. Trow, Michael Gross, Michael
O'Donoghue, Doug Kenney, and Frank Springer; Illustrated by Frank Springer
In a series of full-page illustrations, Beard puts down William F. Buckley; Trow shocks the British upper class by driving a pimpmobile; rock stars and groupies fawn over Gross; O'Donoghue is cast in a Bogart role surrounded by jet-setters; Kenney receives a high school sportsmanship trophy and scholarship; Springer portrays himself as a sports legend turned mercinary.
Christmas in July, By Michel Choquette and Anne Beatts; Illustration by Gerry Gersten
In a parody of Dickens' A Christmas Carol, Nixon is visited by the Ghost of Eisenhower, followed by the Ghost of Issues Past (Senator McCarthy), the Ghost of Issues Present (Martha Mitchell), and the Ghost of Issues Yet to Come (William F. Buckley) who show him how far he has strayed from his principles. In the end, he decides to resume bombing Hanoi, cancels his trip to Red China (for the sake of Little Chiang Kai -shek), and, in a spirit of good will, invites Agnew (in the Bob Cratchit role) to run with him again in '72.