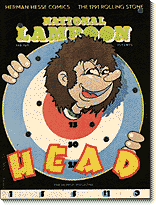 "COVER: This month's excursion into hardcore Xerography is brought to you through the magic of Sagebrush Studios, whose managers have never ever even seen any dope, much less smoked this illegal substance. However, they do know a guy who actually uses it and they got their research material from this guy and also by raking up piles of old Reader's Digests, igniting them and inhaling the fumes."
Contents
Editorial, By Doug Kenney
A thoughtful defense of the idea of making drugs legal is interupted by a neurological siezure mid-paragraph, and then finishes as if nothing happened.
Contest
Readers are asked to submit headlines in the style of the National Enquirer for real news events, current or historical.
Letters, From the Editors
Contest Results
Rumors–actual (category I) and bogus (category II). Category I winner: "If you fart, burp, and sneeze at the same time, you will die." Category II winner: "As late as 1963, farmers in rural Iowa refused to abandon their victory gardens and peach pit stockpiles, maintaining that World War II was still going on. Even today, bewildered motorists report sniping activity around Council Bluffs."
Mrs. Agnew's Diary, Uncredited [Doug Kenney]
Judy's correspondence school course in writing fails to get her published in the National Review; Spiggy is irate when there is a rumor that Dick will be dumping him when he runs for re-election; Dick (pretending to be Hank) calls to reassure him; Spiggy is not fooled and, enraged, runs out of the house in his pajamas, and is stopped by the police before getting to Dick's.
Horrorscope, Uncredited [Doug Kenney]
The futures of famous people are predicted by means of casting lots.
News of the Month, By Henry Beard, Hugo Flesch and Rick Meyerowitz
Results of new poll reveal that most Americans are not at home; Nixon combats the coming flue season using the same (futile) tactics as he has used in the war in Vietnam; A computer scientists conducts experiments on a monkey by subjecting it to various computer "foul-ups" involving multiple subscription offers to Life, mis-matched computer dates, and bills for long distance calls it never made; New trend in which various politicians and criminals are now doing product endorsements; Conservation groups concerned over where Nixon will dump Agnew in '72; Pentagon claims that My Lai massacre was in fact a hippie-type ritual slaying.
The Rake's Progress, or The Head That Lost Its Tribe, By Arnold Roth
Two young people succumb to the evils of drugs and sex and subsequently become the darlings of society.
Foto Funnies, Uncredited [features Michael Gross]
After discovering that the man seated next to her is a Libra, the two begin to fall in love, until he discovers that her sign is Cancer.
Classy Comics Illustrated: Siddhartha, By Doug Kenney and Herman Hesse; Illustrated by Joe Orlando
Parody of Classics Comics Illustrated comic books. The text is straight from Hesse (although radically abreviated), the illustrations are made to look like a lame attempt to make the story "up-to-date"–Siddhartha is portrayed a hippy, etc.
Special Stoned Section, By Michael O'Donoghue; Illustrated by Peter Bramley, Sagebrush Studio, Marvin Mattleson, Randall Enos, Leonard Soned, David Palladini, and others
A potpourri of items for readers who are stoned: Cut-out wings for LSD users; mazes and word puzzles; games to play when somebody is about to put on "Fire and Rain" the eighth time; "medical alert" and "Mariholics Anonymous" wallet cards; a recipe for a "hash host"; "Tums" stickers to disguise tabs; U.S. Flag seals to seal stashes (making it a Federal offense for anyone to break it); a crossword puzzle with answers logical only to someone who is stoned; package label designs for when marijuana becomes legal; half of a treasure map to a "secret stash" near L.A. (the other half to appear in next month's issue); model airplane glue "scratch 'n' sniff" strip; assorted "off-the-wall bummers"; and a final item revealing that regular use of pot leads to vision loss–the text, of course, becomes progressively illegible.
Instant Yoga, By Michel Choquette and Anne Beatts
A tract describing a quick-study method for achieving nirvana. Includes a dartboard and instructions. The back page lists offers for other products including tooth powder, a constipation remedy, a "Pin the tail on the Sacred Cow" educational game for children, and restaurant guides to London and New York.
Street Freaks, Cartoons by Stan Mack
Head of State, By Tony Hendra; Illustration by Rick Meyerowitz
A four-hour, first-person account in which an unnamed individual high up in the Nixon administration describes his experiences under the influence of LSD in order to gain insights potentially useful for policy making.
Rolling Stein Magazine, December 19, 1791, By Anne Beatts and Michel Choquette
Looks and reads just like a 1971 edition of Rolling Stone, but set 180 years earlier. Just the cover and a couple of inside pages, it includes part of a feature on the death of Mozart, an ad for "outasite" William Blake engravings, an interview with Haydn concerning his being on a "mysticism trip", a critical letter-to-the-editor from Edmund Burke, and so on all written in vintage Rolling Stone rock-journalism style.
The Great Automobile Revolt, By Stanley P. Friedman; Photographs by UPI
A series of mostly post-accident news photos of vehichles with captions telling a story of violent demonstrations and guerilla tactics by cars and trucks only to end in failure.
Graphology, By John Boni
Presented in the style of slickly produced pop-pseudoscience, this introduction to graphology displays handwriting samples which, when read, are hilariously more revealing the analysis given in the text.
Freaks, By Christopher Rush; Illustration by Brad Holland
A short essay describing (and defending) the appearance, behavior, and lifestyle of the counter-culture sub-culture known as "freaks."
Brand-New Bugaboos, By Hugo Flesch; Illustrated by Rick Meyerowitz
New bogeymen (and women) to scare your children into behaving, including "The Troll of Chappaquiddick," "Vhistling Verner" (Werner von Braun), "The Bad Princess of the Telephone" (Martha Mitchell), and "The Transplant Man" (Christian Barnard).
Woodstockade, By Michael O'Donoghue; Illustration by Marvin Mattleson
An annotated psychedelic poster promoting what appears to be another Woodstock festival, but upon closer reading is actually an invitation to a Nazi-style death camp planned by the U.S. government.
Confessions of a Teen-age Drug Abuser, By Dr. Elmer Green
The diary of a young woman, just starting college, who gets hooked on "reefers" by a "liberal professor" and within days is a member of the SDS, giving away her baby sister to the Chinese for a "key" of reefers, and so on. She tries to quit, but fails. Eventually she, the professor and a Chinese agent are arrested. Her 450-year sentence is waved in return for allowing her story to be told.
Guts Dept., By Alphonse Villamil
An unsolicited submission–a rather hateful illustration "striking at the vermin in our society," i.e., hippies and feminists–which the accompanying letter explains was rejected by the National Review and asks if National Lampoon has the guts to print it. Apparently so.