ISSUES Index
< Previous issue | Next issue >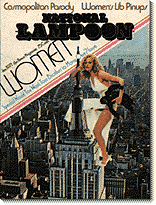 "COVER: The Kong-size cutie mounting the Entire State Building is the work of photographer George Adams, contributor to Playboy, Evergreen and other dubious publications, and Consulting Dean to the Kwik-Pix Academy of Snazzy Snaps, Inc. Mr. Adams created this interesting compsition with trick photography involving, among other things, a stuffed and shrunken gorilla, a specially-designed rubber torso and a number of perverted f-stops."

Giant Fay Wray look-alike carries giant gorilla to the top of the Empire State Building.
Contents
Editorial, By Doug Kenney
Less-than-sincere denials of sexism within the mostly-male staff of National Lampoon and an account of the negotiations when the female members of the staff went on strike.
Letters, From the Editors; Spot illustration by David Johnson
Mrs. Agnew's Diary, Uncredited [Doug Kenney]; Spot illustration by David Johnson
Judy secretly dips into the grocery money to enroll in a Famous Writers School correspondence course hoping to break into the "wide-open" field of poetry; Pat and Dick throw a costume party for New Year's Eve–Dick seems to be wearing what he usually wears, but everyone applauds him anyway.
Contest; Spot illustration by David Johnson
Readers are invited to send in their best puns using place names in the "Trygve Lie Memorial International Pun Toss & Yokohama Throw." Results are given for the Anti-Drugs Contest in which readers were invited to finish the sentence, "I will never smoke dope because ___." First prize went to Howard Franklin for "I will never smoke dope because drugs do the darndest things."
News of the Month, Uncredited [Henry Beard]; Spot illustration by David Johnson
Suggestions for applying American election practices to eventual "free elections" once the war in Vietnam is over; List of end-of-the-year special books, including "Art by the Astronauts" and "The Deluxe Illustrated Report of the President's Commission on Pornography, edited and with an introduction by Ralph Ginzburg"; Precautions for parents or children assembling plastic kits ("You will probably need a complete set of Phillips screwdrivers, a pair of industrial wire cutters, a small anvil and a chain saw, so get these now. You will also need something to cut your finger with and a sofa to ruin."); The latest trends in "freeway living"; Tests finding that marijuana injected in rats causes birth defects suggests further study on the effects of intervenous doses of cheese, dead insects, etc.
Horrorscope, Uncredited [Doug Kenney]; Spot illustration by David Johnson
Future events in the lives of celebrities foretold through augury
I Remember Matriarch, Written and illustrated by Arnold Roth
Roth explores the implications of the success of women's struggle for equal rights and men finally get some power.
The Censorless Woman, By Michael O'Donoghue; Illustration by Sagebrush Studios
A parody of The Sensuous Woman, taken to absurd levels.
Foto Funnies, (features Doug Kenney and Henry Beard)
An attractive woman takes a seat between two men. Each of them offers something (a cigarette, a newspaper, pleasantries, etc.) which she cheerfully accepts, but when she suddenly leaves, they each think she must be stupid.
Hippity Hop with Mighty Minerva, By Riva Kreplach; Illustrated by Dick Hess
Done in the style of an early 20th century children's book, the story of the life of a radical feminist and her victories over men.
1971 Calendar, By Doug Kenney; Illustrations by Michael Gross, Charles White III, and Joe Orlando; Photographs by Larry Couzens and Bob Pike
Prefaced with a statement from the editors that the six women on the following are presented as heroic human beings, and not as sexual objects, a series of pinup calendar pages featuring, of course, scantily-clad women
Cosmogirl Meets Playboy, By Terry Catchpole; Photograph uncredited
A "dialogue" between a young man and a young woman describing themselves in terms of marketing bromides that might have been written by the advertizing managers of Cosmopolitan and Playboy magazines.
I've Got a Trillion of 'Em, By Julia Verne [sounds like a pseudonym–M.S.]; Illustrated by Michael Gross
A short story about an out of work computer operator who is hired by a has-been comedian to program his computer to write jokes. All goes well until the computer starts thinking for itself.
Marshmallows, By Robert Heit; Photographs uncredited
An essay on life on the planet Krok, which is just like Earth except that marshmallows are forbidden. The upshot is: If having marshmallows is a crime, only criminals will have marshmallows.
Unlikely Events in 1971, Written and illustrated by Edward Sorel
An illustrated list which includes things like: "Greta Garbo comes out of seclusion to appear on television's Celebrity Bowling" and "Walter Keane is commissioned to paint the official portrait of President Nixon."
Instant Ball Four, By Gerald Astor; Illustration by Bob Zoell
Foto Funnies
Cosmopolitan Parody, By Karen Murphy
Step into my Bidet
Cosmo Tells All
Cosmo's Make-Over
Cosmo Reads the New Books
Cosmo's Couch
Cosmo's Diet of the Month
Cosmo's 'Coming' Attractions
Cosmo's Confession
Cosmo's Cutie of the Month
Cosmo's Dream Vacation
Cosmo's Idea of the Month
Cosmo's Quiz