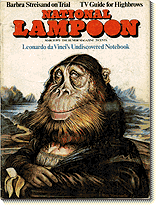 "COVER: The Mona Gorilla by Ricardo da Meyerowitz is reproduced with the kind permission of the National Lampoon Traveling Exhibition entitled The Gorilla in Art. The reconverted bookmobile will also display such masterpieces as Duchamp's Gorilla Descending a Staircase, Picasso's Gorillica, the original manuscript of Kant's Critique of Pure Gorilla, a recording of Schubert's Unfinished Gorilla and a videotaping of Sir Kenneth Clark's cultural series Gorillisation. Gorilla my dreams, I love you…"
Contents
Letter From the Editor, By Doug Kenney
Some easy tips on becoming a culture vulture in no time
Letters, Uncredited; Illustration uncredited (probably Michael Gross)
Mrs. Agnew's Diary, Uncredited (Doug Kenney); Illustration uncredited (probably Michael Gross)
Judy has lunch with Pat and Trish; Hank drops by and upsets Pat; Judy is left alone with Trish and tries to explain the birds and bees to her with disasterous results
News of the Month, Uncredited (Henry Beard); Illustration uncredited (probably Michael Gross)
Suggestions for the Pompidieu government to rename things French in honor of Charles de Gaulle; Quebeqoises, however, pass; 5,000 gallons of mercury is accidentally tainted with tuna; Nixon administration clarifies rather wide bounds supposedly agreed to by Hanoi as justification for bombing North Vietnam; An example of the type of file kept on private citizens—in this case "Eugene V. MacArthur"—proves reassuring; In the wake of Playboy magazine's announcement that it would no longer retouch out pubic hair in its nude photography, other national magazines announce similar "taste innovations"
Horrorscope, Uncredited (Doug Kenney); Illustration by Michael Gross
Predictions about famous people based on scapulimancy, the observation and minipulation of the shoulder blade
How to Write Good, By Michael O'Donoghue; Illustrations by Joe Orlando
Absurd advice to the budding writer. For instance, in the absence of a satisfactory ending, he suggests having all the characters run over by a truck.
My Kultur—Right or Wrong, Cartoons by Arnold Roth
Satirical cartoons about high culture.
The Mantovani Strain, By Gordon Cotler
A parody of Michael Crichton's The Andromeda Strain in which middle-American blandness suddenly and mysteriously spreads through Manhattan.
The Undiscovered Notebook of Leonardo Da Vinci, By Doug Kenney & Daniel Maffia
Da Vinci invents the bat signal, the whoopie cushion, the 1939 World's Fair monument, the heart transplant, scuba gear, the flying saucer, the squirt gun, the gumball machine, the dildo, the hobby horse, the telephone, the stilletto knife, and discovers marijuana and the pterodactil.
Foto Funnies, Uncredited (features Doug Kenney)
Topic: Body language
The Big Breakthrough in Art!, By Michael O'Donoghue & Tom Ballenger
57 masterpieces combined into one giant canvas to humorous effect.
I Was in America in the '70s, By Tony Hendra; Illustrated by Michael Gross
A distopic vision of a seventies in which Spiro Agnew is in charge.
The Dolts, By Chris Rush
An "anthropological report" on the Dolts, an early European people whose culture was based entirely on stupidity.
The Great Kitsch Conspiracy, By Michel Choquette, Anne Beatts & Sean Kelly; "Courtroom Sketches" by Hidemi Nakai
Transcripts of a "witch trial" in which kitsch is put on trial a la McCarthy, with Barbra Streisand, Henry Mancini, Dean Martin, Frank Sinatra, and other music industry and Hollywood luminaries as defendants.
Our Do-It-Yourself Cultural Heritage, By Michel Choquette & Sean Kelly; Illustrated by Michael Gross
Create your own cultural artifacts using objects found around the home.
The Pied Piper of Burbank, By Sean Kelly & Michel Choquette; Illustrated by Gahan Wilson
"A warped recollection of the poem by Robert Browning."
How to Draw Good, By Peter Bramley
Cartoon spoof of step-by-step-style drawing lessons.
Culture Television, By George W. S. Trow; "Cover" Illustration by Ashmead
Parody of TV Guide in a world where high culture reigns the airwaves.
Gracie Slick's Handbook of Radical Dos & Don'ts, By Terry Catchpole; Illustrated by Michael Kanarek
"Etiquette for the Aquarian Age"
The Life & Times of Captain Bringdown By Michel Choquette & Sean Kelly; Illustrated by Michael Barrington
"The original wet blanket. The one who spoils the fun for everyone else." Cartoons with captions.