ISSUES Index
< Previous issue | Next issue >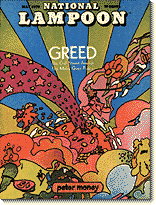 COVER: Parody of Peter Max, an artist known perhaps more for his marketing savvy than for his artistic abilities. (Illustrated by Peter Bramely, though not credited.)
Contents
(listing only)
Editorial
Letters, From the Editors
Mrs. Agnew's Diary, Uncredited [Doug Kenney]
The Bushmiller System
Horrorscope
Two for the Magi
Let's Make a Buck!
An Interview with Howard Hughes, By Michael O'Donoghue
"A penny for your thoughts, H.H. Cheap at twice the price."
The CosNosCo Annual Report, By Nicholas Fish [Henry Beard]
"The Mafia goes public. Mr. Fish prepares to go for a swim."
Up With Negroes, By John Weidman
"If we could just harness that natural rhythm to a turbine or something."
The Gall Street Journal, By Doug Kenney
"Extra, extra, read all about it, bull bites bear."
The Hanging of Norman Jones, By Patrick Coffey
"Cutting up with the Great Apes and some so-so monkeys."
Space-Age Vending Machines, By Mark MacArthur
"Hey, mister, can you spare a dime spare a dime spare a dime…"
The March of Slugs
Valley of Probate
Goth of the Month, Written and illustrated by Rick Meyerowitz
"Lay up your treasure in heaven. Hight rates. Low monthly charge."
Taxpayers Anonymous, By Alan Abel
"One of the milked refuses to turn the other udder."
The Poor and the Super-poor, By Ralph Schoenstein; Illustrated by Arnold Roth
"Featuring the first family tree to succumb to the Chestnut Blight."
Plug That Gold Drain!
True Finance Magazine, By Tamara Gould [George W. S. Trow]
"'I gave my heart to Bernie Baruch, and it split 3 for 1!'"
Crossing the Rubicam, By Michael O'Donoghue
"Up against the wall-to-wall carpeting, Max Factor."
Cupidity, By Robert Osborn
"The shiny business cycle you got with that Cloverine Brand Salve stock."