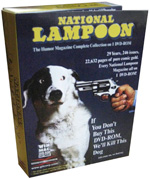 Well, it finally arrived today. The box is the usual DVD box size, but contains very little: The disc and a 1-page installation guide in a DVD jewelcase.
The Good, the Bad, and the Ugly: The DVD-ROM contains all the regular issues of National Lampoon ever published, from April 1970 to November 1998. Special issues, with original material, such as the High School Yearbook Parody, Encyclopedia of Humor, etc. are not included, but everything that appeared in the anthology issues ("Best of" issues) is here. Even the ads are included, which is kind of cool. Not surprisingly, bind-in cards, such as the famous "You May Already Be a Wiener" subscription card, are left out. Unfortunately, at least one article, "In Search of the Midnight Tapes" from the May 1973 issue, which was printed on a bind-in insert card that looked like a flexible 33 rpm record, was also left out. I have not had time to see if anything else is missing.
The issues are medium-resolution scans of mediocre quality. They are good enough for reading and browsing, but a lot of the photography and illustration suffers from being overexposed and washed out. Color balance is also off on some of the scans.
Even with its flaws, at $49.95 retail, I think it's a good deal and a convenient package for anyone who wants to browse the issues, find their favorite articles or cartoons, or even discover it all for the first time. It would have been fantastic if they had lovingly restored every page to its pristine original appearance, but I imagine the market for something like that is simply too small to justify the effort. For those people, I would recommend acquiring the real issues. But even for collectors, the DVD would be worth having if only so you could look at the issues without removing them from their protective plastic wrappers.
After I've spent more time looking it over, I will post more details. (There are some reports on Amazon.com that the disc doesn't work properly for some people, but I've had no trouble on my Mac.)