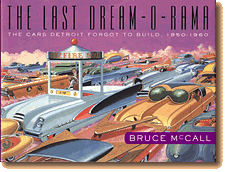 Bulgemobile Fans Rejoice! "The Last Dream-O-Rama: The Cars Detroit Forgot to Build, 1950-1960" by Bruce McCall has just been published by Crown. This book picks up where McCall's "Bulgemobile" articles left off.
If you want to check out the original articles: "The '58 Bulgemobiles" ("So All-fired New, They Make Tomorrow Seem Like Yesterday!") first appeared in the April '72 ("25th" Anniversary) issue. It also appeared in the National Lampoon Best of #1 anthology (1972), and the Tenth Anniversary Anthology (1979). "The 1946 Bulgemobiles" ("New… from the tires down!") in the April '79 (April Fool) issue; "The 1934 Bulgemobiles" ("The new cars that say, 'Get out of my way!'") in the May '74 ("50th" Anniversary) issue; and "The 1906 Bulge-Buggy" ("The Contraption of Merit") in the April '75 (Car Sickness) issue. All the Bulgemobile articles also appear in "Zany Afternoons," an anthology of Bruce McCall's humor published by Knopf (1982) and reprinted in 1999 by Barnes and Noble.
McCall's work is brilliant and, in fact, it was his "'58 Bulgemobiles" article that got me hooked on National Lampoon in the first place. A sampling of his work, including many of his more recent pieces, can be seen on the James Goodman Gallery site from a 1999 exhibit. Update: The Goodman Gallery site no longer exists.