ISSUES Index
< Previous issue | Next issue >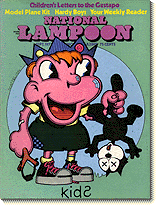 "COVER: This month's test for color blindness (if you can't see the very funny joke written in red behind the cat, check with your optometrist) is by Marvin Mattleson. Says Mattleson: 'Doing a cover for your magazine was a big break for me. Thanks to you, I have received many important and lucrative offers from prestige publications and high-class book companies. In my first month, I grossed more than I did in a whole week in my previous job. I strongly recommend your magazine to other artists!'"
Contents
Letter From the Editor, By Michael O'Donoghue
A rather long-winded joke about a cattle drive which crosses paths with a Dixieland band
Letters, Uncredited; Illustration by Marvin Mattleson
Hot Flashes, Uncredited; Illustration by Marvin Mattleson
Press photos accompanied by humorous captions
Mrs. Agnew's Diary, Uncredited (Doug Kenney); Illustration by Marvin Mattleson
Those "awful" Chinese; Dick sends Spiggy to campaign in obscure foreign countries; everyone attends a wedding and gets looped
News of the Month, Uncredited (Henry Beard); Illustration by Marvin Mattleson
Nixon announces his plans for the "So-So Society"; A chain letter enticing recipients to kill Vietnamese circulates in Vietnam; FTC to investigate religions for possible fraudulant claims; Telephone Company plans ad campaign to discourage phone use; Sharks place ban on eating people because of health risks; Solutions to Queen Elizabeth's financial woes; Arizona man arrested for his part in the My Lai massacre—voting for Lyndon Johnson
A Child's Garden of Worse, Cartoons by Arnold Roth
My Weekly Reader: The Children's Tabloid, By George W. S. Trow and Anne Beatts
Parody of My Weekly Reader featuring sensationalistic stories about children
Children's Letters to the Gestapo, By Michael O'Donoghue
Kids say the darndest things to Heinrich Himmler, offering to turn in their parents, making "cute" racists remarks, etc.
Eloise at the Hotel Dixee, By Michael O'Donoghue
Parody of the Eloise childrens' books in which Eloise lives in a seedy hotel populated by prostitutes and drunks
Creative Playthings, By Gerald Sussman
Socially relevant toys for the seventies such as Martin Luther King Logs, Ralph Nader Chemistry Set, Norman Podhoretz Hand Puppets, Psychic Wholeness Costumes, etc.
How to Cook Your Daughter, By Tony Hendra
Written in the style of an epicurean essay. It seems to be what the title suggests at first, but ends in a "just kidding" sort of way. (Less amusing after you've read the book with the same title his daughter wrote later as an adult —Mark)
How to Cook Your Father, Cartoon by Katherine Hendra
Tony's daughter gets even
Filial Politics, By Sean Kelly and Anne Beatts
"A Kids' Lib Manifesto" written in a strident political style with awful spelling
Spicy Tales, By Commander Barkfeather
Lewd jokes in rebus form
Model Plane Kit, By Doug Kenney; Illustration by Gray Morrow
The "B-90 Super Dodo," a $779-million super-secret bomber under development by the Department of Defense, which looks suspiciously like a paper airplane, that you can build yourself
Chums in the Dark, By Hugo Flesch (and Henry Beard); Illustrations by Dick Hess
A side-splitting parody of the Hardy Boys juvenile book series in which the two young slueths are hopelessly clueless when it comes to matters of sex and drugs, and are literally left holding the bag.
Games Children Play, By John Weidman and Gahan Wilson
Rather frightening "signs of the times" games supposedly played by contemporary kids such as "Red Light, Red Light," "Hide and Shreik," "King of Hamburger Hill," etc.
The Toilet Papers, By Chris Miller; Illustration by Stephen Negrycz
Portrait of the artist as a toddler going through toilet training—his "brown period"
Death Is, By John Weidman; Drawings by Herb Trimpe
Parody of Charles Schulz's "Happiness Is…A Warm Puppy" Peanuts books focusing on various ways real children manage to do themselves and each other in [NatLamp got sued over this one—MS]
Foto Funnies, Uncredited (features Doug Kenney)
Topic: Someone reading NatLamp and not getting the Foto Funnies piece
National Lampoon Reading Comprehension Test, By Sean Kelly
Find out how well you read this issue of the National Lampoon