ISSUES Index
< Previous issue | Next issue >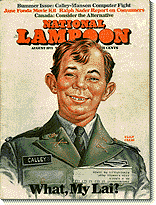 "COVER: This month's cover is by Kelly Freas, a brilliant artist currently responsible for much of the best illustration in the science-fiction field, but probably most well known for the many cover renditions of a familiar mascot that he did during the fifties and sixties for one of the popular children's magazines of the day."

Portrait of Lt. Calley in the guise of Alfred E. Newman with the caption, "What, My Lai?" In case you didn't catch it, the cover note is referring to the fact that Freas was a frequent cover artist for Mad magazine.
Contents
Letter From the Editor, By Sean Kelly
Fifteen suggestions for achieving a bummer buzz
Letters, Uncredited; Illustration by Marvin Mattleson
Hot Flashes, Text and photos uncredited; Illustration by Marvin Mattleson
Press photos (some doctored) with humorous captions
Mrs. Agnew's Diary, Uncredited (Doug Kenney); Illustration by Marvin Mattleson
The Agnews and the Nixons attend a rocket launch escorted by Dr. Werner von Braun
News of the Month, Uncredited (Henry Beard); Illustration by Marvin Mattleson
German companies try to exploit the "nostalgia" craze in advertisements; A mysterious chemical slick of the coast of California; Grisley mass-murder of 346,782 Vietnanmese under investigation; Advantages of the Soviet justice system; Flowing lava and Mafiosi compared, accompanied by study questions
Defeat Comics, By Michael O'Donoghue and George W. S. Trow; Illustrated by Crag W. Granite
War comc book parody in which four brothers join up hoping to become heroes in Vietnam only to end up as drug addicts, traitors and black marketeers. Includes ad for Lt. Calley's Kill the Children Federation and Madame Ky's Puzzle Page which contains puzzles such as "How many dead Vietcong can you find in this picture?"
Welfare Monopoly, By John Weidman
Parody of the Monopoly board game in which one player is a slum lord and the rest of the players are renters on Welfare
As the Monk Burns, By John Boni
TV soap opera set amidst murder and mayhem in a war ravaged village in Vietnam
Canada Supplement, By Sean Kelly, Anne Beatts, and Michel Choquette; Illustrations by Chas B Slackman, Joe Orlando, L. Ross, and Al Rossi
A potpourri of short articles about Canada, "The Retarded Giant on Your Doorstep" including: Americans, Know Your Canada, interesting facts and a guide to language; Canadian History at a Glance, including a Cwick Canada Cwiz (actually Canada jokes); Northern Lights, some famous Canadians (better known for their success in the U.S.); Canada, As Modern As Today, photos from the '40s supposedly showing how "up-to-date" Canada is; Canada's "Rye" Sense of Humour, Acollection of Canadianized non-jokes; Canada, Daybed of Democracy, Canada's role as a source of armaments for the U.S.; Shinney: The Real Hockey Tourists Never See, A short story by a world traveler who passes himself off as a Québeçois to discover the real Canada; The Quest for a Canadian Identity, Results of an opion pole; How to tell if you're Canadian; Honourary Canucks; Toronto, Someplace Like Home, A photo essay on the "exciting" lifestyle enjoyed by Torontans; An RCMP Poster depicting a pig on horseback; and The Frog Prince: A Canadian Fairy Tale, a comic featuing Pierre Trudeau
Foto Funnies, Uncredited
A middle-aged man tries some acid
(Classified), By Tony Hendra
A newsletter for those in the surveilance business featuring news of the annual convention (unannounced and unattended, for security reasons), letters not to the editor, an invitation not to subscribe with a blank to fill in to reveal who told you about (Classified), Faces Not in the News, ads, etc.
A Cavalcade of Bummers, Cartoons by Arnold Roth
The Machining of America, By Anne Beatts; Illustration by Michael Gross
Parody of "The Greening of America" outlining a utopian vision of an industrial future
Computer Fight of the Century, By Rick Meyerowitz
Lt. William "Machine Gun" Calley vs. Charles "Charlie" Manson in a simulated boxing match, with Howard Cosell announcing
The Nadar Report on Consumers, By Peter Ivers; Illustration by Peter Schaumann
An exposé of a group with inordinate power over the American economy: consumers
Right On!, By Terry Catchpole; Illustration by Gray Morrow
Merchandising kit for a movie starring Jane Fonda as a radical activist, with tips on exploiting the counterculture to ensure big box-office returns
Would You Buy a Used War from This Man?, By John Boni and Henry Beard
Photos from Nixon's press conference announcing the invasion of Cambodia captioned as a television commercial promising relief from the heartbreak of Indochina through Peaceplan, with Honor®