ISSUES Index
< Previous issue | Next issue >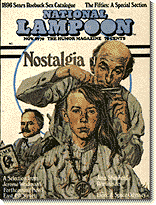 "COVER: Our Norman Rockwellesque fantasy was executed by Lou Glanzman, whose 47 Time covers to date make him one of America's most successful (and overpaid) illustrators in the biz. If you want to know what he looks like in real life, take a look at the triumphant Dad to the left of the barber.
"Speaking of overpaid illustrators, the editors wish to thank the gang at Cloud for getting us through our first dark days and hope, despite the growing clamor for their ballpoints that forced them to drop our art directorship like a live grenade, that their scrawls will continue to have a home in our flimsy pages."
Michael Gross took over as Art Director with this issue, bringing the new logo with the filled-in OOs and a more sophisticated look to the magazine.
Contents
Editorial, By Doug Kenney
Reconsidering the forgotten Fifties
Letters, From the Editors Mrs. Agnew's Diary, Uncredited [Doug Kenney]
Martha Mitchell invites Judy to sneak into a Women's Liberation Front meeting with her.
Contest
Rumor Derby: Contestants are asked to send in their favorite rumors in two different categories—existing or proposed. First prize is a one-year subscription to the National Lampoon.
Horrorscope, Uncredited [Doug Kenney]
The futures of various celebrities are predicted using samples of their handwriting.
Nostalgia is Goodstalgia, Cartoons by Arnold Roth
The Dink Patrol and the Love Slaves of Xuyan Than Phu, By Michael O'Donoghue; Illustration uncredited (Bruce Minney)
"Guts Magazine True Combat Story"—Memoirs of a berzerk GI in Vietnam.
Those Fabulous Fifties, Uncredited [Doug Kenney and Michael Gross]
Section opener featuring a cut-out Dick Clark party mask.
The Teen-age Death Song Game, By Christopher Cerf; Illustration uncredited [probably by Michael Gross]
A board game based on teen-age death songs of the '50s and '60s such as Teen Angel, Tell Laura I Love Her, Honey, and Patches.
Free Fifties Gifts, Uncredited [Doug Kenney and Michael Gross]
Things to cut out including a "Get Out of Korea" bumper sticker, an American Communist Party membership card, an Alan Freed payola check, and Buick holes to paste onto your VW.
Fifties Fashion: The "Sharp" Look, Text uncredited [Doug Kenney]; Photography by Bob Pike
Clothing and accessories for the keen teen, with appropriately spiffy descriptive copy.
Iron Lung Donation Box, Uncredited [Doug Kenney and Michael Gross]
Cut out and follow easy assembly instructions.
Ghoul Days, Cartoons by Stan Mack
The 1956 High School Yearbook, Uncredited [Doug Kenney and Michael O'Donoghue]; Cover illustration by Barry Zaid
Cat Calls: Ezra Taft Benson High School Year Book 1956.An affectionately awful parody of a high school yearbook. Shades of the later 1964 High School Yearbook Parody published in 1974.
Monster Memories, Text and illustrations by Rick Meyerowitz
What the horror movie monsters of the past are up to these days.
Great Expectations or The War of the Worlds, By Jean Shepherd; Illustrations by James Grashow
Script for a play about two aging relics of the sixties–Groovy, a 50-year-old hippie, and Butch, a generation older—who get together to relive scenes from the "generation gap" in order to feel alive for a time.
The New 1896 Sex Catalogue, Uncredited [Doug Kenney]; Art by Cloud Studio
Parody of the 19th century Sears, Roebuck catalogs featuring ridiculously elaborate sexual aids "for those interested in adventurous courtship and unusual practices".
Day of the Horns, By Christopher Rush; Illustration by Peter Bramley
Reminiscences of the sexual frustration following the onset of puberty.
Disney Rejects, By Henry Beard; Illustration by Peter Bramley
Cartoon characters such as Tallulah Tarantula, Sammy Squid, and Lester Lamprey, and why they failed.
4th Street East, By Jerome Weidman
Childhood memories of getting a new suit in 1924 New York. (An excerpt from a forthcoming book by the same title.)
The Little Match Girl, By Hans Christian Andersen retold by R.O. Blechman