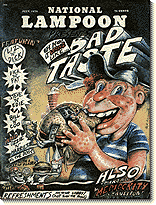 "COVER: Winner of this month's Kwicky Kover Kontest is Rick "By-the-Numbers" Meyerowitz. Using a split-nib garden trowel and melted Crayola, Rick masterfully evokes that sense of elemental crudity that covers us, like Saran Wrap, from sea to shining sea."
Contents
Editorial, By Doug Kenney
It would seem Americans have cornered the market on bad taste, given its successes in Vietnam, but vulgarity knows no national boundarys
Letters, From the Editors
Horrorscope, Text uncredited [Doug Kenney]; Illustration by Gail Burwen
Predictions of the futures of various famous people supposedly based on tarot cards.
Mrs. Agnew's Diary, Uncredited [Doug Kenney]
Judy and Spiggy hang out at a party thrown by Pat and Dick in the Green Room.
I am Curious (Big Yaller), By Henry Beard; Illustration by B. Johannsen
Juvenile classics with sex scenes added to to promote reading.
Take Me Out to the War Game, By Gerald Aster; Illustration by B. Johannsen
Play-by-play action on a Vietnam battlefield in the style of a sports broadcast.
Bad Taste Section Cover, Illustration by Bill Skurski
The Great Roob Revolution, By Roger Price; Photograph by Michael Gold; Illustrations by Bill Skurski
The Liz 'n' Dick Gift Catalog, By Douglas Kenney; Collages by Tom Dimond
A catalog of tacky gifts made from priceless works of art sold at extremely high prices.
Nixon's Dream Supreme Court, By Nicholas Fish [Henry Beard]
A list of dubious jurors supposedly found on a scrap of paper accidentally left by Nixon at the Lincoln Memorial.
The World's 7 Worst Restaurants, By Mark Smith (Photography by Fred Schultze)
A critical survey featuring some of the most disgusting food photography ever published.
Ye Olde Colonial Inne Menu, By Mark Smith [?]; Illustrations by Gail Burwen
Unremarkable dining fare presented in pseudo-colonial style.
Il Detergenta, By Henry Beard; Illustration by Gail Burwen
A thoroughly confused soap opera (peppered with ads for alarmingly hazardous household cleaners) in which the characters spend all their time trying to sort out the plot.
The Shooting Gallery, By Rick Meyerowitz
A tasteless portrait of the Nixons.
Pass the Arsenic, S'il Vous Plait, By Richard Alsop; Illustration by Charles E. White III
The writings of Emily Post applied to an absurdly tasteless situation.
Art or Porno?, By Geoffrey de Mandeville; Photographs by George Addams
How-to guide on "artistic" nude photography.
Bad Taste Is Where It's At, Cartoons by Arnold Roth
Solemate, By Michael O'Donoghue
"The Shoe Fetish Computer Matching Service." Complete with form.
Notes From the Overground, By John Weidman
Postcards from an "ugly American" on a trip around the world.
Li'l Big Mouth, By Doug Kenney & Bill Dubay
Al Capp parody in which William Buckley is revealed to be the brains behind Al's Li'l Abner comics.
Listen to the Drivel, Text and illustration uncredited
Rod McKuen parody.
Yes, Delicia, There is a Punchline, By John Boni
Dirty bedtime stories.
The Wonderful World of Mediocrity!, By George Swift Trow and Michael O'Donoghue; Photography by Michael Gold
June Allyson and Eddie Albert tell you how to achieve Peace of Mind and early retirement in Florida through Mediocrity—the Golden Middle Path.
The Greatest Show Off the Earth!, By Michel Choquette and Sean Kelly
The wit and wisdom of the astronauts—on two long-playing records.
Diana Barrymore Drinking Songs, By Michael O'Donoghue
Jokes in such poor taste, they have been printed backwards as a service to readers.
Contest: Mrs. Mitchell's Grocery List
Readers are asked to send in mythical grocery lists for famous people. Best entry wins $15.