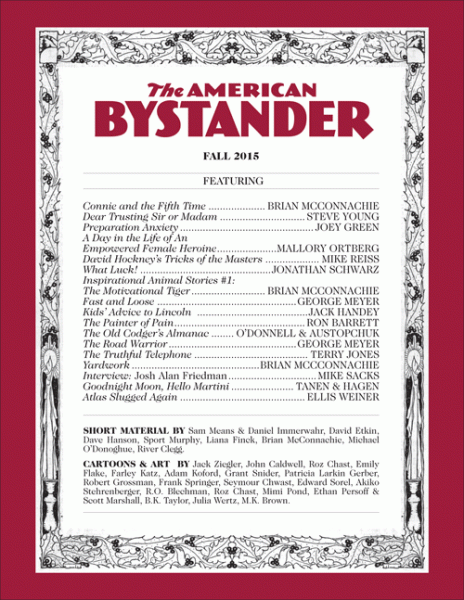 The American Bystander is a new quarterly humor magazine being launched on Kickstarter. (If you don't know what Kickstarter is, it's a way for people, like maybe you, to help back new creative ventures. It's sort of like public tv for artists, writers, and other creative types.)
Many of the folks behind The American Bystander are former Lampoon writers and artists, such as Brian McConnachie (who will be editor-in-chief), Ellis Weiner, Mike Reiss (also known for The Simpsons), Ron Barrett, Jack Ziegler, John Caldwell, Roz Chast, Robert Grossman, Frank Springer, Edward Sorel, R.O. Blechman, Mimi Pond, B.K. Taylor, and M.K. Brown. Other contributors are coming from SNL, The Simpsons, and Monty Python. It'll be like a comedy all-star supergroup. Full disclosure: I designed the logo, so I'm kind of involved, too.
I think it's going to be amazing, and it looks like they are well on the way to being funded.
A comedy mind is a terrible thing to waste. Won't you help?