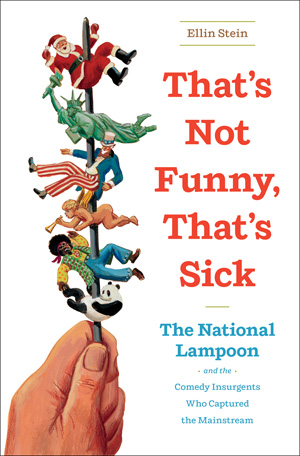 Well, I guess that's a pretty good reason to curtail the hiatus briefly.
There have been more than a few books written about National Lampoon and the people who worked there, but none of them puts the history of the magazine and its spin-offs in context the way Ellin Stein's That's Not Funny, That's Sick: The National Lampoon and the Comedy Insurgents Who Captured the Mainstream does.
If you think of the Lampoon phenomenon as a big tree, with the magazine as the trunk, other books have drawn more detailed pictures of certain parts of the tree, or even from a point of view inside the tree.
Stein's book is the first to step back and draw a full picture of the tree, from its roots in the Harvard Lampoon to the many branches and twigs that have grown from it over the years, including many that barely get mentioned in other books. The book has clearly been in the works for a long time. It includes material I've never seen before gathered from a number of people who have since died.
If you want to know about some particular aspect of National Lampoon—the life of Doug Kenney, the life of Michael O'Donoghue, Tony Hendra's take on it all, Rick Meyerowitz's favorite stuff from the magazine, or Chris Miller's history of Animal House—there are other good books to choose from.
But for anyone who is interested in the big picture of National Lampoon's history and cultural influence, Ellin Stein's That's Not Funny, That's Sick is the one to get.