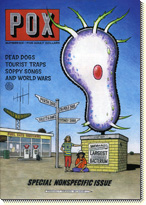 Two gals from down under have managed to pull off an amazing feat: A pitch-perfect parody of vintage 1970s-era National Lampoon. POX is a comic book published "intermittently" by Susan Butcher and Carol Wood out of somewhere in the middle of Australia. It's funny, clever, and quirky (and drawn by hand). Carol says she discovered the 'Poon in the mid-1970s as a 16-year-old living in Perth, Western Australia. It was a mind-blowing experience and Lampoon magazine and books became her only contact with the outside world.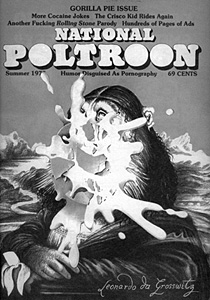 Which explains the fabulous job she and Susan did on "National Poltroon," a 16-page parody of National Lampoon featured in POX Number Six. Given their limited resources, it's not as lavishly produced as the original (black and white on newsprint), but it perfectly captures the tone and style of the magazine at its peak. In a jam-packed 16 pages they manage to have a little fun with practically every artist and writer of the era–P.J. O'Rourke, Chris Miller, Henry Beard, Vaughn Bodé, Michael Gross, Rick Meyerowitz, Bruce McCall(!), and more.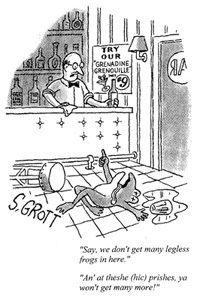 There are spoofs of cartoons—Cheech Wizard, Politenessman, Verman, B. Kliban, Edward Gorey, Gahan Wilson, Charles Rodriguez, Roz Chast, Bob Mankoff, Sam Gross, Shary Flenniken, Ed Subitzky, M.K. Brown, Randy Enos, Jeff Jones, Bruce Cochrane, Foto Funnies, etc., etc. Some of these are very brief, but all of them lovingly mimick each cartoonist's style to a T. Did I mention the subscription cards? The Surprise Poster? The Son 'o God comics parody? The contents page? The Off-Broadway show? The obligatory "hip" liquor/tobacco/hi-fi ad? It's hard to believe how much they managed to squeeze into this little parody. It's clearly a labor of love—as much a tribute as a spoof.
Unfortunately, POX is not distributed outside of Australia (yet). However, Susan and Carol are willing to send copies to readers in America for five US dollars each. Send well-concealed cash to: Butcher and Wood, 17 King St, Daylesford VIC 3460, Australia.