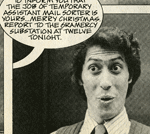 Every so often I hear from someone who was affiliated with National Lampoon in one way or another. The most recent is Andy Moses, an erstwhile comic actor who appeared in the stage production of That's Not Funny, That's Sick! Andy is alive and well and living in New York City with his wife and cats. After getting out of the acting business, he became a bartender, a diamond salesman, a chef, and a partner in a comic book store. He still hangs out with some of the old NatLamp players, including the talented Paul Jacobs.
Andy notes that he and Sarah Durkee (another light of the NatLamp stage) wrote and performed CBS Radio's Almost Comedy Hour. It aired in June of 1983 and also featured Louise Gikow as a writer (who also played organ as part of a kiddie show parody). Guest host was Don Novello (a.k.a., Father Guido Sarducci) with guests Franken and Davis, Firesign Theatre, and (surprisingly) Milton Berle, who appeared in a Nick Danger sketch with Firesign Theatre.
Andy also appeared in the magazine several times. In the March 1978 (Crime and Punishment) issue, he appeared in a mug shot in the John Hughes piece "Random, Pointless, Senseless Crimes" as Cousins Molockney, wanted for mailing dog feces. In the December 1978 (Food & Festivity) issue, he is featured in a Foto Funny about a guy who gives a quarter to a bum who turns out to be the Postal Fairy, and gives him a job at the post office for Christmas. He appeared in the February 1979 (Heterosexuality) issue cavorting with other nude people (including Rodger Bumpass and Oui model Margie Beck) in "A Visit to Nero's Pleasure Palace." (He made a few more appearances in the magazine, but I haven't tracked them all down.)
Thanks for the update, Andy!