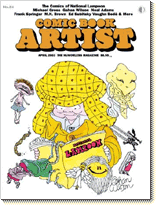 The February 2003 issue of Comic Book Artist magazine is completely devoted to National Lampoon artists and writers. It is a bit behind schedule, but should be hitting the newsstands about now.
I helped a little with the issue (including drawing the logo), but editor Jon Cooke deserves virtually all the credit for putting together an amazing amount of material, including:
• Covers by Gahan Wilson and Mark Bodé.
• Interviews with Gahan Wilson, Michael Gross, Neal Adams, Frank Springer, Ed Subitzky, M.K. Brown, Alan Kupperberg, Mark Bodé, and more.
• Extensive samples of artwork are also featured, including some very rare stuff.
I haven't seen the issue myself yet, but I'm very excited to get my hands on it. Some of the former NL contributors featured in the issue have been under the radar for a long time.