"One of the great disservices of western civilization that does us no favors at all," Michael O'Donoghue told me one Sunday afternoon as he sat curled on the sofa in the chandeliered living room of his Chelsea condo, sipping smoke from the gold-tipped filter of a Sobraine Black Russian cigarette, "is that mask you see in theater–the two Greek masks, comedy and tragedy–as if there was any fuckin' difference between one and the other!
"Things can be both funny and not-funny at the same time. You don't need to separate between the two. They're both basically the same thing."
As dawn broke on the morning of October 7, 1994, Michael O'Donoghue, two-time Emmy Award-winning Saturday Night Live writer, and originator of thedarkly charming character "Mr. Mike," awoke with what he believed was simply another of the migraines that had tormented him throughout his life. He got out of bed, went to his bathroom and took some medication to relieve the pain.
Later, he awoke a second time exclaiming, "Oh my God!!"
His wife, Cheryl Hardwicke, in the bed beside him, reported that his eyes were the color of blood and that she could see bolts of "lighning flash behind his eyeballs." She immediately telephoned EMS.
In the ambulance on the way to St. Vincent's Hospital, Michael went into a convulsive seizure. Three hours later, a doctor informed Ms. Hardwicke that Michael had suffered a massive cerebral hemorrhage. He was now officially "brain dead." His body was put on life support, his organs donated to children.
Speaking of the dean of American satire, Michael O'Donoghue once wrote, "If there was a Mt. Rushmore of modern American humor, Terry Southern would be the mountain they carve it on." The same can certainly be said of Michael. Quite simply, Michael O'Donoghue was the single best satiric mind this country had to offer. His death was as shocking and bizarre as the art he devoted himself to in life. For all of us who loved and admired him, his death, like his humor, had turned our lives upside down. It was, as he once said in Mr. Mike persona to Garrett Morris's wizened Uncle Remus, "There's no moral, Uncle Remus, just random acts of meaningless violence."
After he left SNL, with two brief but financially lucrative returns (leaving on both occasions under a cloud of controversy because of two of his sketches: The Last Days in Silverman's Bunker(written with Nelson Lyons) and The Good Excuse, the latter set in a Nazi death camp—(See: RED TAPE #7), he co-scripted a number of screenplays, among them War of the Insect Gods (a giant cockroach invasion film); The Planet of the Cheap Special Effects; Biker Heaven (a.k.a. Easy Rider II with Nelson Lyons and Terry Southern); and, with Mitch Glazer, the Bill Murray vehicle Scrooged.
With the unbridled wit and ireverence that typified all of his work, Michael established himself first as a star of The National Lampoon. At The Lampoon, in addition to writing numerous articles, short stories and comic strips, he co-wrote The National Lampoon's Radio Dinner album and produced The National Lampoon Radio Hour radio show. He landed at The Lampoon after instigating a national obsession with Pet Rocks due to a slim volume he published entitled The Story of the Rock. At the time of the book's publication, Michael was the sardonic ringmaster of The Electric Circus' hashish-fueled happenings, and a contributing editor at The Evergreen Review. Under the editoriship of Fred Jordan, The Evergreen Review gave Michael his first exposure in a national magazine. Among the things he wrote for its pages were The Liberal Book ("Liberals will actually pay money to hear Leroi Jones speak!"); Cowgirls At War; and the corpse-driven comic strip serial The Adventures Of Phoebe Zeitgeist (a character later resurrected by Werner Fassbinder in his play Blood On A Cat's Neck). Michael came to The Evergreen Review from San Francisco, where he wrote, edited and published a small literary jounal called Renascence, publishing the likes of Charles Bukowski, and finances through the patronage of Bishop Pike. During the last year of his life, his work sparkled on the last page of Spin magazine in a column called Not My Fault!
It is to Bob Guccione, Jr.'s credit that he gave Michael's work a home when no one else would. Michael once said he looked on life not with a jaundiced eye but a cancerous one. The first time Michael and I spoke was over a plate of clams casino fifteen years ago. He had just completed post-production on Mr. Mike's Mondo Video. It was during that talk he hinted at the origins of his "cancerous" vision. It lay in the childhood he spent in upstate Sauquoit, New York.
During his childhood, Michael confessed, he was unable to cry. The most automatic and natural thing in the world, but he couldn't do it; he had never figrured out how. If he hurt himself, he would sit with the pain trapped inside, rocking back and forth with his hands clasped around his knees, frowning in anger at his own inability to let go and let the tears flow. Finally, it was his mother who provided the perfect solution to his dilemma. She would sit, hold him and make him laugh.
"–as if there was any fuckin' difference between one and the other!"
"It's very easy to make people laugh," he said that same Sunday afternoon in his Chelsea living room, flicking the ash from the head of his Sbraine Black Russian. "That's not the point. It's very difficult to make people think. Art is the cake. Comedy is the frosting. The trick is to get them to eat the cake."
Copyright © Darius James 1995. All rights reserved. Used with permission.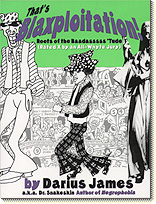 Darius James, a.k.a. Dr. Snakeskin, was a friend and associate of Michael O'Donoghue during the last fifteen years of his life. Darius is author of the books Negrophobia and That's Blaxpoitation! Roots of the Baadasssss 'Tude (Rated X by an All-Whyte Jury) the latter of which this memoir is excerpted. I am pleased to present it here with his generous permission…
—MS