| | |
| --- | --- |
| January 2011 Archive | |
January 27, 2011
Founding publisher of National Lampoon, Matty Simmons, is working on a book called Animal House: The Book about the making of the movie. If you have any funny or interesting stories or incidents that happened to you during or after or because of the movie, Matty would like to hear from you. You can send your stories to: mattyahbook@aol.com
Posted January 27, 2011, 09:38 PM in News.
January 11, 2011
270. I am looking for a feature in the format of a multipage photo funny, a composition of photographs overlaid with comic dialogue balloons. It featured two boys staging a war between plastic army men of different nationalities inside a house. The battle took place on furniture and carpeted stairs, and the toy soldiers spoke some of the dialogue--in un-PC heavy dialects and accents, of course. One plastic soldier under torture on the spinning phonograph confessed, "Groan, groan... The Japs are hiding in the houseplants!"
It was "The Battle of the Living Room" by P.J. O'Rourke from the March 1977 (Science and Technology) issue.
Posted January 11, 2011, 12:47 PM in Answers. | Comments (1)
Rare Sam Gross lithograph (the "frog's legs" cartoon) on eBay right now (not cheap, either). Check it out.
Posted January 11, 2011, 12:43 PM in News.
January 6, 2011
Forty-Year-Old Puzzle Solved!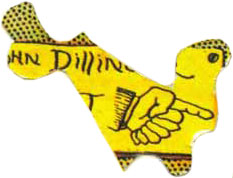 The July 1970 (Bad Taste) issue included a cartoon by Peter Bramley that was purportedly "too vulgar to be run as originally intended." To render it harmless, the cartoon was presented as pieces of a jigsaw puzzle. Now, over forty years later, Cartoon Carol (of Pox Girls in Australia) has assembled the puzzle, using the latest computer imaging techniques to avoid damaging the precious copy of the magazine in which it appeared. To view the completed puzzle, click (if you dare) on the puzzle piece displayed here. Glad that's finally cleared up.
Posted January 6, 2011, 11:35 AM in News.
269. In the early to mid 70's there was an issue with a comic about returning veterans from Viet Nam, there was one panel where a blind guy asks a maimed guy if he would like to share a joint, the maimed guy says "Would I?" and the blind guy says "Well forget it no-legs." What issue is this?
Natalie Lamp says: "...'Vietnam Vets', a comic-book parody from the April '82 (Failures) issue. The heroes are 'vets'; ie veterinarians drafted to take care of war-traumatized animals in the Nam. The 'would I?'/'no legs' exchange occurs on a plane as these guys are coming home, but was over a liquor flask rather than a joint. And it was an old joke even in '82."
Posted January 6, 2011, 11:24 AM in Answers. | Comments (3)
268. Sometime in the early 1970s, Richard Nixon made a trip to the Soviet Union. National Lampoon did a spoof on the visit. What I remember is either a picture of Nixon in a kitchen, washroom or near a bathroom. The headline read "Nixon Makes Big Stink In Russia"., I believe there were bubble captions on Russians saying "Who farted?" and "Old Russian proverb - make no difference if water fresh or salt, shit still float".
I think Steve got it: "Nixon Causes Stink in Paris" (The audience is saying "Who farted?" in 22 different languages.)--"News on the March", June 1974 (Food) issue. Or maybe Wendy got it: "I'm not so sure... The June '72 (Science Fiction) issue might be the one. 'News on the March' has an old news pic of Nixon (as Veep) examining a laundry display--one washing machine and two packets of detergent--amid a crowd of Russians. Nobody is saying "Who farted?" but Nixon's thinking: 'Next time I come here I'll be President.' Brezhnev is thinking: 'Next time he comes here I'll be Premier', and that slapheaded commie who wasn't allowed in Disneyland (his name eludes me) is mulling over the old Russian proverb."
Posted January 6, 2011, 11:21 AM in Answers. | Comments (5)
267. Many years ago the Lampoon published a parody of a Christmas letter which is the best thing of it's kind that I've ever seen. This was during a time when many people enclosed a letter in their Christmas card telling the reader what a great year they and their kids and other family members had - in short, it was all about bragging about how well they were all doing. Letters of this kind were often over the top and I, for one, got sick of this kind of "showing off". The Lampoon did a magnificient job of parodying this kind of thing and I have been forever greatful for the job they did.
National Lampoon doesn't appear to have run anything like that, but it may have been in Mad. See the Comments link for more about this.
Posted January 6, 2011, 11:05 AM in Answers. | Comments (1)
266. Do you know of a NL cassette tape in the late 70's/early 80's of sound effect tricks to play in the car for unsuspecting passengers? It seems to have included farts and explosions, a fake news story about an invasion. It came in what looked like a suitcase w/handle, dark brown with road signs or city name stickers (something to do with traveling).
It was "The Official National Lampoon Car Stereo Test and Demonstration Kit" which came out in 1980 in cassette format. An ad for it appears on the July 1980 issue. More info in the Comments link. (Thanks to Duane, Michael, and Dave for helping to answer this question.)
Posted January 6, 2011, 11:02 AM in Answers. | Comments (8)
265. I am looking for a hilarious Charles Rodrigues cartoon. It shows a crazy guy with a gun shooting a judge in his courtroom point blank through the head with the caption: "Alleged assassin". A spoof on journalists that is spot on!
It appeared in the August 1972 (Miracle of Democracy) issue. The article was called "Ass Ass In". (Thanks again, Carol!)
Posted January 6, 2011, 10:59 AM in Answers. | Comments (2)